About Crystal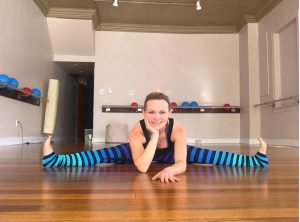 Crystal Widmann MS, MEd, is the founder of Y2B Fit + creator of Y2Barre™, BYO Baby Barre™, and Postnatal Core Restore. She is a postnatal fitness expert, specializing in barre + yoga training with over 10 years of experience in yoga and fitness.
Crystal won the 2016 + 2017 Philadelphia Family Magazine "Love Award" for Best Personal Trainer for Families.  She utilized her Master's Degree in Exercise Science combined with her personal experience as a new mom to develop the BYO Baby Barre™ + Postnatal Core Restore techniques that targets the specific needs of postnatal women, while keeping in mind common postpartum issues such as diastasis recti.  The program fuses barre + pilates technique, traditional fitness training principles, and physical therapy elements.
Crystal has experience working with clients of all fitness levels. She worked for several years as a professor of Exercise Science teaching both Exercise Physiology & Biomechanics at the college level. Crystal developed the Y2Barre training method to provide a comprehensive full-body workout in less than one hour.
Crystal is a passionate, creative, and empowering teacher.  Her desire for Y2B Fit is to create a community environment where everyone feels empowered to reach their health + fitness goals.
Crystal's credentials include:
Master's Degree – Exercise Science
Master's Degree – Counseling Psychology
Yoga Alliance E-RYT 200, RCYT, CEP
NASM Certified Personal Trainer
NASM Certified Women's Fitness Specialist
Barre Teacher
Reiki Master/Teacher
Nutrition Education Trainer
Ayurvedic Lifestyle Consultant